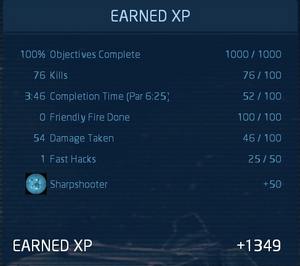 Leveling is the process by which a player gains levels and unlocks new items and promotions. By participating in a mission, a player is rewarded with Experience Points, and when a certain amount of points is reached, the player gains a level. Reaching a new level always unlocks a new piece of Equipment or a weapon. Every player begins the game at level 1 and can attain level 27, which is the maximum level, with enough XP. A player can reset their level back to 1 after reaching level 27 by electing to receive a Promotion.
Individual characters do not level; rather, a player's level is global and any items unlocked are accessible to all characters who can use them.
An offhand item is unlocked upon reaching each even-numbered level, and a weapon is unlocked upon reaching each odd-numbered level.
The amount of Experience Points required per level is multiplied by two after the fourth promotion, by four after the fifth promotion, and by six after the sixth promotion; see the table below.
It is possible to gain two levels at once after completing a mission.
The achievement "Armory Access" is earned by reaching level 27.
Experience table
Edit
External links
Edit
Ad blocker interference detected!
Wikia is a free-to-use site that makes money from advertising. We have a modified experience for viewers using ad blockers

Wikia is not accessible if you've made further modifications. Remove the custom ad blocker rule(s) and the page will load as expected.